Using a Hyundai GPS in Edmonton, Cold Lake, Fort McMurray, and Calgary
Navigation systems are useful pieces of technology to have in your vehicle. Many Hyundai vehicles come with navigation systems that are extremely easy to use. No matter where you are in Edmonton, Fort McMurray, Cold Lake, or Calgary, using a Hyundai GPS can help you get exactly where you need to go.
The Hyundai navigation system can be accessed with manual or voice commands. Some of the best features are to set your home address and to find a destination. The following information will help walk you through some of the basic elements.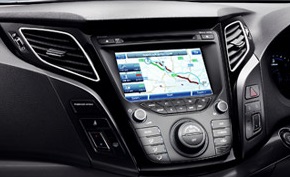 Home Address
Setting your home address is a great way to allow your navigation system to get you home from any location without having to constantly re-enter your information. By saving your home address, you'll simply be able to hit the Home button, and the navigation system will provide you with the best route home. To set your home address, you have two options.
If you're currently at home:
Press the setup button
Select My Places
Select Home Address
Press Store Current Position
The system will then store your current location as the home address.
If you're not currently at home:
Press the setup button
Select My Places
Select Home Address
Press Search
Follow prompts to enter information manually
Destinations
Your navigation system can help you get from Point A to Point B. To find the best route to your desired destination:
Press the destination button
Search for destination by address
Set as destination or save to address book for future use
Points of Interest
If you want to find nearby points of interest, you can use the POI button. You can search by category, location name, or address. Just remember that POI will only appear when the map is scaled to 800 meters or less.
To find a point of interest:
Press map voice screen
Touch POI icon
Select business type from category list
Use icons to find destination
Set as destination
Access Your Navigation Today
River City Hyundai has a variety of new vehicles that include navigation. If you want to learn more about using Hyundai GPS available in Cold Lake, Fort McMurray, Edmonton, or Calgary, check out your user's manual or contact us at 877-916.9839.
Leave a Reply
Your email address will not be published. Required fields are marked *
Sales Hours
(780) 371-3700
| | |
| --- | --- |
| Monday | 9:00 am - 9:00 pm |
| Tuesday | 9:00 am - 9:00 pm |
| Wednesday | 9:00 am - 9:00 pm |
| Thursday | 9:00 am - 9:00 pm |
| Friday | 9:00 am - 9:00 pm |
| Saturday | 9:00 am - 6:00 pm |
| Sunday | 11:00 am - 5:00 pm |
Service Hours
(780) 371-3725
| | |
| --- | --- |
| Monday | 7:30 am - 5:30 pm |
| Tuesday | 7:30 am - 5:30 pm |
| Wednesday | 7:30 am - 5:30 pm |
| Thursday | 7:30 am - 5:30 pm |
| Friday | 7:30 am - 5:30 pm |
| Saturday | 8:00 am - 2:00 pm |
| Sunday | Closed |
Parts Hours
(780) 371-3727
| | |
| --- | --- |
| Monday | 8:00 am - 5:00 pm |
| Tuesday | 8:00 am - 5:00 pm |
| Wednesday | 8:00 am - 5:00 pm |
| Thursday | 8:00 am - 5:00 pm |
| Friday | 8:00 am - 5:00 pm |
| Saturday | 8:00 am - 2:00 pm |
| Sunday | Closed |
Express Lube Hours
| | |
| --- | --- |
| Monday | 7:30 am - 5:30 pm |
| Tuesday | 7:30 am - 5:30 pm |
| Wednesday | 7:30 am - 5:30 pm |
| Thursday | 7:30 am - 5:30 pm |
| Friday | 7:30 am - 5:30 pm |
| Saturday | 8:00 am - 4:00 pm |
| Sunday | Closed |