Hyundai Military Appreciation Rebate Program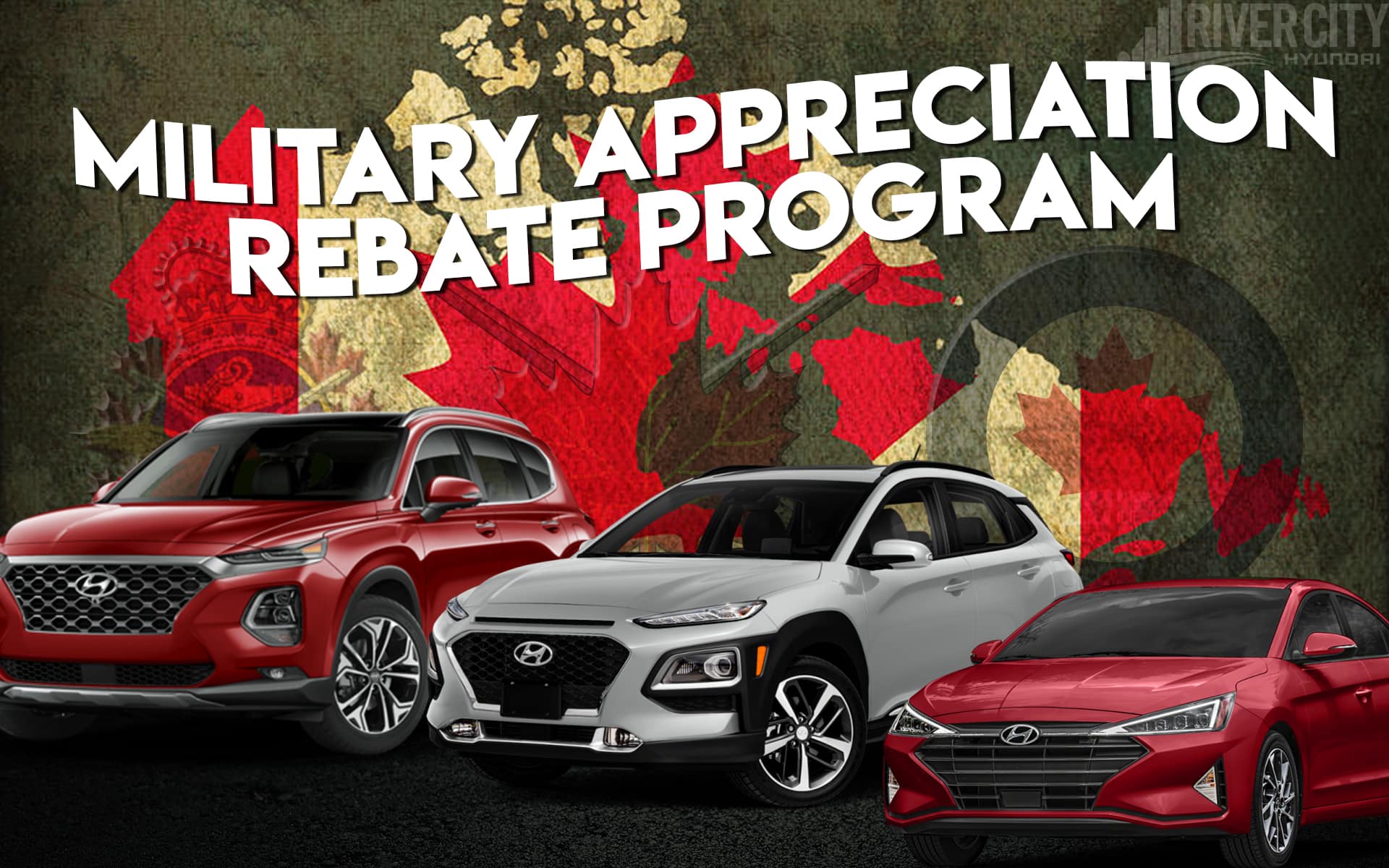 At River City Hyundai, our community is important to us, that's why we're proud to offer the Hyundai Military Appreciation Rebate Program. The program, designed to reward current and veteran military personnel, offers exclusive discounts on select new Hyundai vehicles, giving Edmonton neighbors access to one of Canada's most respected car brands for less.
What is the Hyundai Military Appreciation Rebate Program?
The Hyundai Military Appreciation Rebate Program offers preferred pricing discounts of $500 to $1,000, in addition to any current special pricing or promotions already available, on some of Edmonton and Calgary's most popular vehicles, including:
2019 Hyundai Accent 5-Door
2019 Hyundai Sonata Hybrid
Thanks to Hyundai's warranty coverage, military members and their families are covered for 5-years/100,000 km against any powertrain defect, allowing you to enjoy your new Hyundai worry-free for longer.
Who Qualifies for the Program?
Applicants qualify if they are:
Active or former members in good standing of the Canadian Armed Forces (Army, Navy, Air Force)
Active member of the Canadian Military Police Association
Family member of Service Member residing at same mailing address (some restrictions apply)
What Do I Need to Provide?
Members must present their identification or proof of relationship at the time of purchase. Discounts do not apply to previous purchases. Military Cadets do not qualify for the discount program.

Sales are subject to stock on hand. The program is only available to residents of Canada and their family members.
Explore the Hyundai Military Advantage Program at River City Hyundai
Contact River City Hyundai today to learn more and take advantage of new discounts reserved exclusively for honored members of Canada's Armed Forces. Learn more about our dealership before you visit our showroom in the City of Champions.
Leave a Reply
Your email address will not be published. Required fields are marked *
Sales Hours
(780) 371-3700
| | |
| --- | --- |
| Monday | 9:00 am - 9:00 pm |
| Tuesday | 9:00 am - 9:00 pm |
| Wednesday | 9:00 am - 9:00 pm |
| Thursday | 9:00 am - 9:00 pm |
| Friday | 9:00 am - 9:00 pm |
| Saturday | 9:00 am - 6:00 pm |
| Sunday | 11:00 am - 5:00 pm |
Service Hours
(780) 371-3725
| | |
| --- | --- |
| Monday | 7:30 am - 5:30 pm |
| Tuesday | 7:30 am - 5:30 pm |
| Wednesday | 7:30 am - 5:30 pm |
| Thursday | 7:30 am - 5:30 pm |
| Friday | 7:30 am - 5:30 pm |
| Saturday | 8:00 am - 2:00 pm |
| Sunday | Closed |
Parts Hours
(780) 371-3727
| | |
| --- | --- |
| Monday | 8:00 am - 5:00 pm |
| Tuesday | 8:00 am - 5:00 pm |
| Wednesday | 8:00 am - 5:00 pm |
| Thursday | 8:00 am - 5:00 pm |
| Friday | 8:00 am - 5:00 pm |
| Saturday | 8:00 am - 2:00 pm |
| Sunday | Closed |
Express Lube Hours
| | |
| --- | --- |
| Monday | 7:30 am - 5:30 pm |
| Tuesday | 7:30 am - 5:30 pm |
| Wednesday | 7:30 am - 5:30 pm |
| Thursday | 7:30 am - 5:30 pm |
| Friday | 7:30 am - 5:30 pm |
| Saturday | 8:00 am - 4:00 pm |
| Sunday | Closed |