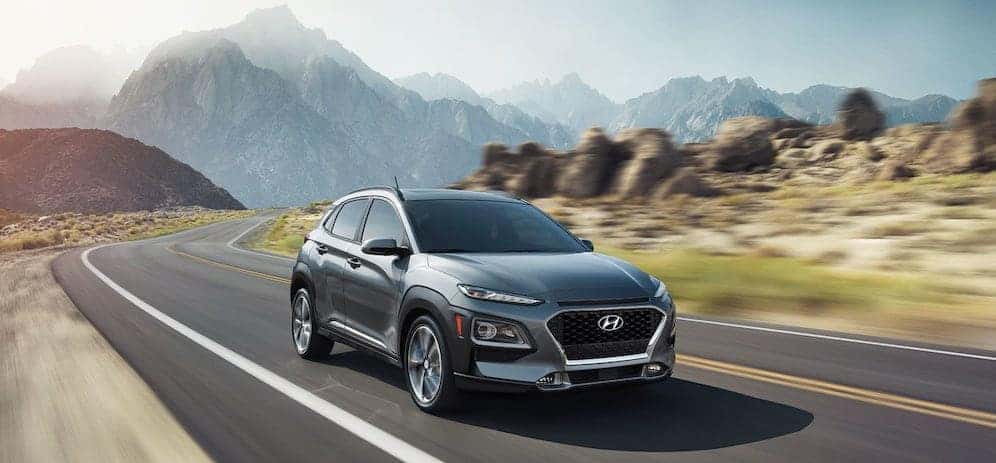 Looking for the best subcompact SUV in Edmonton, AB? Well, you'll want to pay attention to critical reviews and awards. Recently, Le Guide de l'auto – a leading Canadian automotive reviewer – named the Hyundai Kona the best subcompact SUV in its segment. Earning a number of awards and laudatory critical reviews, this new subcompact SUV is now on sale at River City Hyundai in Edmonton, AB. Research further here.
Le Guide de l'auto
Quebec automotive publication Le Guide de l'auto has nothing but good things to say about the new Hyundai Kona, and its position as a stellar subcompact SUV in the Hyundai lineup. In fact, the Hyundai Kona won two prestigious awards from the publication: The "Best New SUV" award and the "Best Subcompact SUV" award. Clearly, the Hyundai Kona awards are glowing.
Auto Trader Canada
Le Guide de l'auto isn't the only resource giving the Kona positive reviews. Auto Trader Canada heaps praise on the Hyundai Kona's performance and looks. Auto Trader Canada's review isn't just an opinion – it's based in fact. In our impartial head-to-head comparison, we noted that the Hyundai Kona outclasses other vehicles in its segment with respect to performance features.
Take a look at Auto Trader Canada's impressive review:
"Where the Kona really shines over the competition is in space. It feels much bigger than it is on paper, and I was impressed by how good both rows felt. The ergonomics are spot on, everything is easy to reach, and Hyundai's infotainment system is spectacular."
Auto123.com
Top Canadian auto reviewer Auto123.com was also happy with the new Hyundai Kona on a variety of fronts, including the model's impressive driving dynamics:
"This first drive of one of the most highly anticipated models of the past several months revealed to us a car that is as agile as advertised, whether you're scooting around town or out on winding country roads."
Explore the Award-Winning Hyundai Kona at River City Hyundai!
Explore this well-reviewed subcompact SUV at River City Hyundai in Edmonton, and compare the Chevy Volt and Kona EV — Hyundai's new all-electric version of the award-winning Kona. Here, we have plenty of new Hyundai Kona SUVs for sale and plenty of new vehicle specials to sweeten the deal on your next purchase. Contact us online for questions, compare the new 2020 Hyundai Kona vs. Mazda CX-3, or schedule a test drive from the convenience of your home!
Sales Hours
(780) 371-3700
| | |
| --- | --- |
| Monday | 9:00 am - 9:00 pm |
| Tuesday | 9:00 am - 9:00 pm |
| Wednesday | 9:00 am - 9:00 pm |
| Thursday | 9:00 am - 9:00 pm |
| Friday | 9:00 am - 9:00 pm |
| Saturday | 9:00 am - 6:00 pm |
| Sunday | 11:00 am - 5:00 pm |
Service Hours
(780) 371-3725
| | |
| --- | --- |
| Monday | 7:30 am - 5:30 pm |
| Tuesday | 7:30 am - 5:30 pm |
| Wednesday | 7:30 am - 5:30 pm |
| Thursday | 7:30 am - 5:30 pm |
| Friday | 7:30 am - 5:30 pm |
| Saturday | 8:00 am - 2:00 pm |
| Sunday | Closed |
Parts Hours
(780) 371-3727
| | |
| --- | --- |
| Monday | 8:00 am - 5:00 pm |
| Tuesday | 8:00 am - 5:00 pm |
| Wednesday | 8:00 am - 5:00 pm |
| Thursday | 8:00 am - 5:00 pm |
| Friday | 8:00 am - 5:00 pm |
| Saturday | 8:00 am - 2:00 pm |
| Sunday | Closed |
Express Lube Hours
| | |
| --- | --- |
| Monday | 7:30 am - 5:30 pm |
| Tuesday | 7:30 am - 5:30 pm |
| Wednesday | 7:30 am - 5:30 pm |
| Thursday | 7:30 am - 5:30 pm |
| Friday | 7:30 am - 5:30 pm |
| Saturday | 8:00 am - 4:00 pm |
| Sunday | Closed |