Hyundai Factory Remote Start
Are you thinking of buying a brand new Hyundai in the Sherwood Park or Edmonton area? Whether you choose the Hyundai Kona, Elantra, or any of the other smart vehicles in the Hyundai lineup, make sure you get the Hyundai factory remote start system for added convenience and security. Learn all about the innovative features of the Hyundai remote starter, then stop by River City Hyundai to try it out for yourself.
Remote Lock and Unlock With a Security Alarm
When you're out enjoying all of the things to do in Edmonton and Calgary, the remote start system makes your Hyundai even more convenient. Using the key fob, you'll be able to lock and unlock your car's tailgate and doors from far away, making it easy to secure your vehicle when parking. It also sets the alarm, which means that if anyone touches the doors, hood, or trunk when your car is locked, the horn will start sounding and the light will start flashing to alert you of an intruder. The red button on your remote control also triggers this function in order to scare away potential thieves.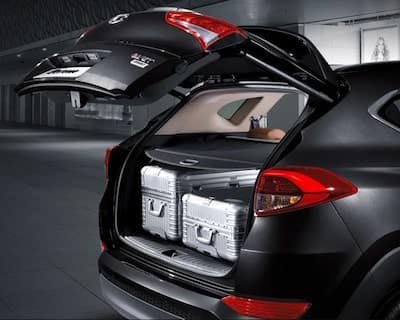 Remote Start and Car Find
With the remote car starter, Fort McMurray drivers will be able to start their Hyundai from the parking lot or inside their own home. This will allow you to heat or cool the cabin to your specifications before you even get in. The convenient Car Find button helps you locate your vehicle in a parking lot by sounding a brief horn honk that will guide you to your car. You'll never have to worry about losing your car in a parking lot with Car Find!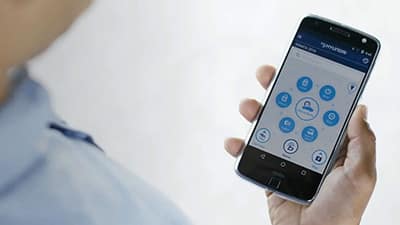 Hyundai Blue Link
Hyundai Blue Link is a revolutionary technology that lets you connect to your car like never before. The Blue Link rearview mirror will connect you to an operator who can contact an emergency service, schedule a car care or service appointment, or help find your destination for you. Your Blue Link mobile app lets you check your vehicle's systems, as well as using the command start or remote lock and unlock systems from your mobile phone or other device without having to fish for your key fob in your pocket or purse. In case of a stolen vehicle, you'll also be able to work with Blue Link operators and law enforcement to locate your car, disable the engine block, and retrieve your vehicle.
Related Posts from River City Hyundai
Hyundai Kona Reviews and Awards
Looking for the best subcompact SUV in Edmonton, AB? Well, you'll want to pay attention to critical reviews and awards. Recently, Le Guide de l'auto – a leading Canadian automotive reviewer – named the Hyundai Kona the best subcompact SUV in its segment. Earning a number of awards and laudatory critical reviews, this new subcompact SUV is…
Android Auto and Apple CarPlay
View Inventory These days, almost everybody has a smartphone. That's why it's more convenient than ever to buy a new vehicle that's equipped with Android Auto and Apple CarPlay, letting you integrate your technology into the vehicle for ease of access while you're on the go. Learn what these systems have in store and how…
Bluetooth Pairing With Your Hyundai
Schedule Service Shop Hyundai Inventory More About Bluetooth If you have a Bluetooth streaming device in your Hyundai vehicle in the Edmonton, Cold Lake, or Fort McMurray area, you may be wondering how best to use it to make hands-free calls. River City Hyundai presents this easy guide to pairing up your cell phone with…
Hyundai Factory Remote Start
Schedule Service View Inventory Are you thinking of buying a brand new Hyundai in the Sherwood Park or Edmonton area? Whether you choose the Hyundai Kona, Elantra, or any of the other smart vehicles in the Hyundai lineup, make sure you get the Hyundai factory remote start system for added convenience and security. Learn all about…
Leave a Reply
Your email address will not be published. Required fields are marked *
Sales Hours
(780) 371-3700
| | |
| --- | --- |
| Monday | 9:00 am - 9:00 pm |
| Tuesday | 9:00 am - 9:00 pm |
| Wednesday | 9:00 am - 9:00 pm |
| Thursday | 9:00 am - 9:00 pm |
| Friday | 9:00 am - 9:00 pm |
| Saturday | 9:00 am - 6:00 pm |
| Sunday | 11:00 am - 5:00 pm |
Service Hours
(780) 371-3725
| | |
| --- | --- |
| Monday | 7:30 am - 5:30 pm |
| Tuesday | 7:30 am - 5:30 pm |
| Wednesday | 7:30 am - 5:30 pm |
| Thursday | 7:30 am - 5:30 pm |
| Friday | 7:30 am - 5:30 pm |
| Saturday | 8:00 am - 2:00 pm |
| Sunday | Closed |
Parts Hours
(780) 371-3727
| | |
| --- | --- |
| Monday | 8:00 am - 5:00 pm |
| Tuesday | 8:00 am - 5:00 pm |
| Wednesday | 8:00 am - 5:00 pm |
| Thursday | 8:00 am - 5:00 pm |
| Friday | 8:00 am - 5:00 pm |
| Saturday | 8:00 am - 2:00 pm |
| Sunday | Closed |
Express Lube Hours
| | |
| --- | --- |
| Monday | 7:30 am - 5:30 pm |
| Tuesday | 7:30 am - 5:30 pm |
| Wednesday | 7:30 am - 5:30 pm |
| Thursday | 7:30 am - 5:30 pm |
| Friday | 7:30 am - 5:30 pm |
| Saturday | 8:00 am - 4:00 pm |
| Sunday | Closed |