2020 Hyundai Palisade SUV Sneak Peek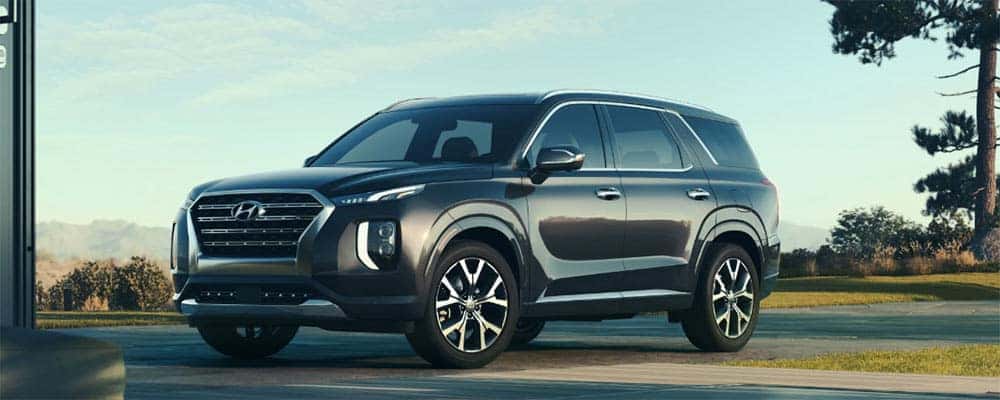 Hyundai has brought a popular lineup of SUVs to families in Fort McMurray for years, and now they're set to bring an all-new entry into the lineup in the form of the 2020 Hyundai Palisade. Sure, not all of the specs and features are out for this model, but River City Hyundai has the inside scoop on what Fort McMurray drivers can expect. Learn more below.
What's the Hyundai Palisade Interior Like?
The Hyundai Palisade will be a full-size, 3-row SUV with seating for up to eight passengers. Look for this SUV to feature luxurious accommodations across all three rows, as well as split-folding rear seats that open up large cargo areas when you need it. Of course, Cold Lake does get chilly, and the Hyundai Palisade will accommodate: Expect to find heated seats in the spacious cabin.
What are the Major Hyundai Palisade Features?
The Hyundai Palisade will be the flagship SUV of the new Hyundai lineup, so look for it to be offered with a full lineup of advanced features, including:
Uvo touchscreen interface
Apple CarPlay™ and Android Auto™
SiriusXM® Satellite Radio
Leather upholstery
Driver assistance features
Much more!
What are the Hyundai Palisade Performance Specs?
It's not hard to imagine what we might find under the hood of the Hyundai Palisade. While we don't yet know for sure, it seems reasonable to imagine that Hyundai will equip it with their classic 290-hp 3.3L V6. There's also speculation about other possible fuel-efficient variants, including a V6 hybrid or turbo-diesel model. Considering that Hyundai plans on releasing 15 electric vehicles by 2020, the Hyundai Palisade may be featured on this long list.
When will the Hyundai Palisade be Released?
We don't yet have a confirmed release date for the all-new Hyundai Palisade, but it is expected to arrive at your Red Deer-area Hyundai dealership sometime around summer of 2019.
Get More New Hyundai Updates Near Fort McMurray with River City Hyundai!
Learn more about the Hyundai Palisade and other new Hyundai models like the 2019 Hyundai Cruz and 2020 Sonata with the team at River City Hyundai, located in Edmonton, AB. Compare the 2020 Palisade to the 2020 Kia Telluride or 2020 Veloster vs. 2019 Mazda3 Sport while you're at it, or compare the 2020 Elantra to Toyota Corolla, and explore our new vehicles for sale while you're at it. And if you have any questions, feel free to contact us today.
Related Posts from River City Hyundai
The Hyundai Santa Fe offers a stylish style, secure interior and a vast range of infotainment and basic safety devices. The 2020 Hyundai Santa Fe has taken several significant enhancements which deal with virtually every sector of the vehicle. The 4th age group Santa Fe now is placed on the new platform and so…

Looking for the best subcompact SUV in Edmonton, AB? Well, you'll want to pay attention to critical reviews and awards. Recently, Le Guide de l'auto – a leading Canadian automotive reviewer – named the Hyundai Kona the best subcompact SUV in its segment. Earning a number of awards and laudatory critical reviews, this new subcompact SUV is…

Have you ever found yourself wondering what the Hyundai logo means? Well, wonder no longer, because River City Hyundai has the answer. We think that Fort McMurray drivers will find the story to be quite fascinating. Learn more about the Hyundai Logo and then swing by our Cold Lake area dealership in order to take any one of our new…